The manifold and downpipe kits are precision made on our custom jig from the highest quality materials and TIG welded to a very high standard using Inconel filler rod. The kits are now ready to ship. Please read everything on this page before making your order to check compatibility. We suggest the work is carried out by competent mechanics, but if you're an able hobbyist it is relatively simple to fit thanks to the ease of access on this engine.
The kit is designed for 380Nm+ and 210 BHP+. We've designed the manifold to be as compact as possible, however it may still be required that you need to modify the plastic fan housing on the rear of the radiator to get it to fit in the engine bay, we can confirm this if you get some measurements for us. In this case it's easy to fit a slim line fan to the rear of the radiator.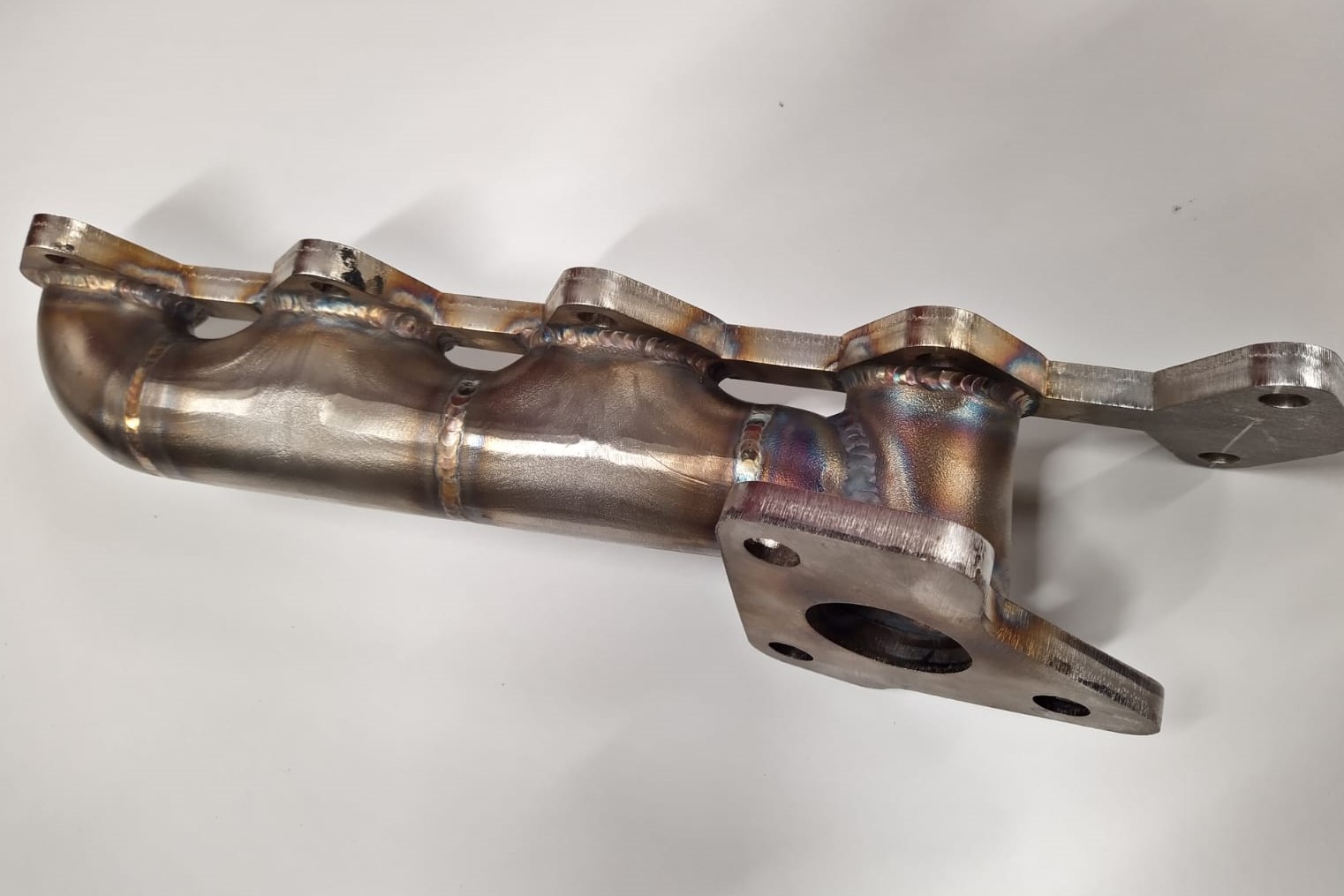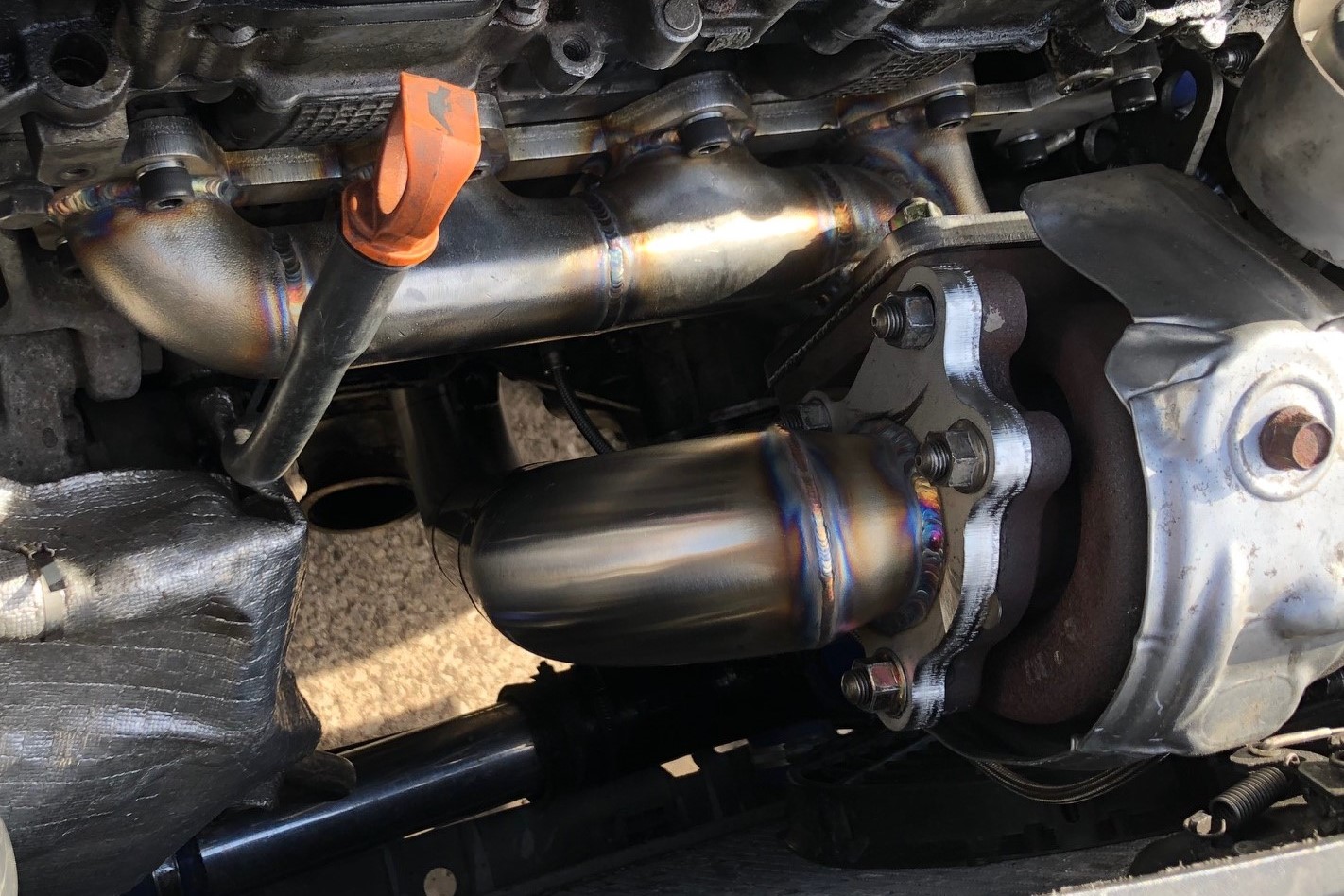 The turbo that you must use is a Mitsubishi TF035HL10-09GFT-VG part number 49335-01122 or 1515A238. The turbo is a modern VNT turbo and originates from a 2.2 Outlander from 2015 onwards. The turbo from earlier Outlander models are not the same.
When choosing a turbo, do not try to save money by ordering a cheap turbo, as these are not built to a high standard enough standard, we are looking to tune for maximum power so reliable parts are key. We actually recommend a low mileage used turbo because then you can be sure it's original quality, or buying a new original part is of course the best way forward.
An even better option is to buy a used turbo, then send to Midland Turbo to have it overhauled and fitted with 360 thrust bearings, this will make it like new, stronger, and will work out cheaper than ordering a new one overall. There is no need to upgrade the compressor wheel or build a hybrid turbo as the turbo is already plenty big enough and is the optimal size for good spool characteristics.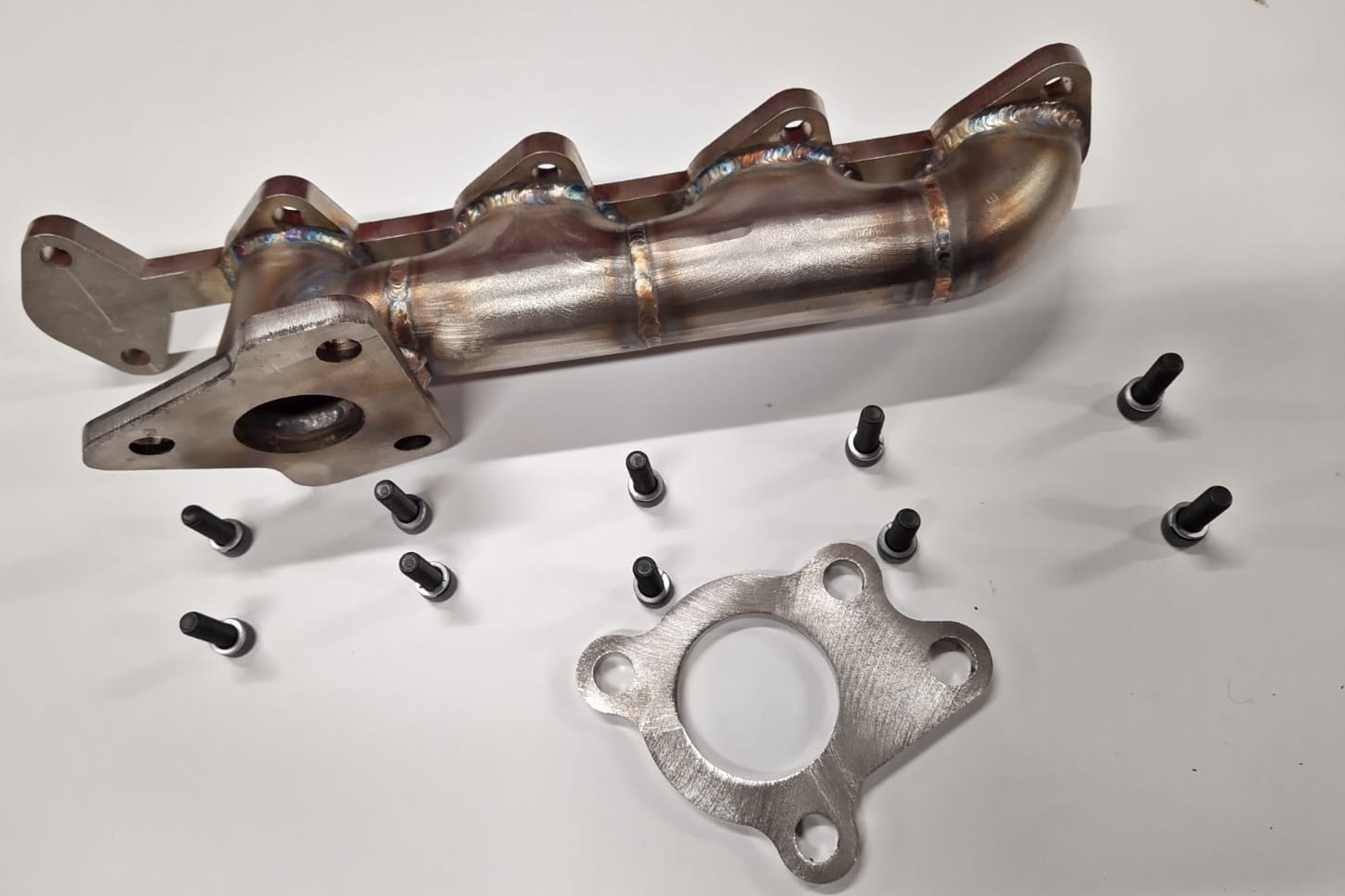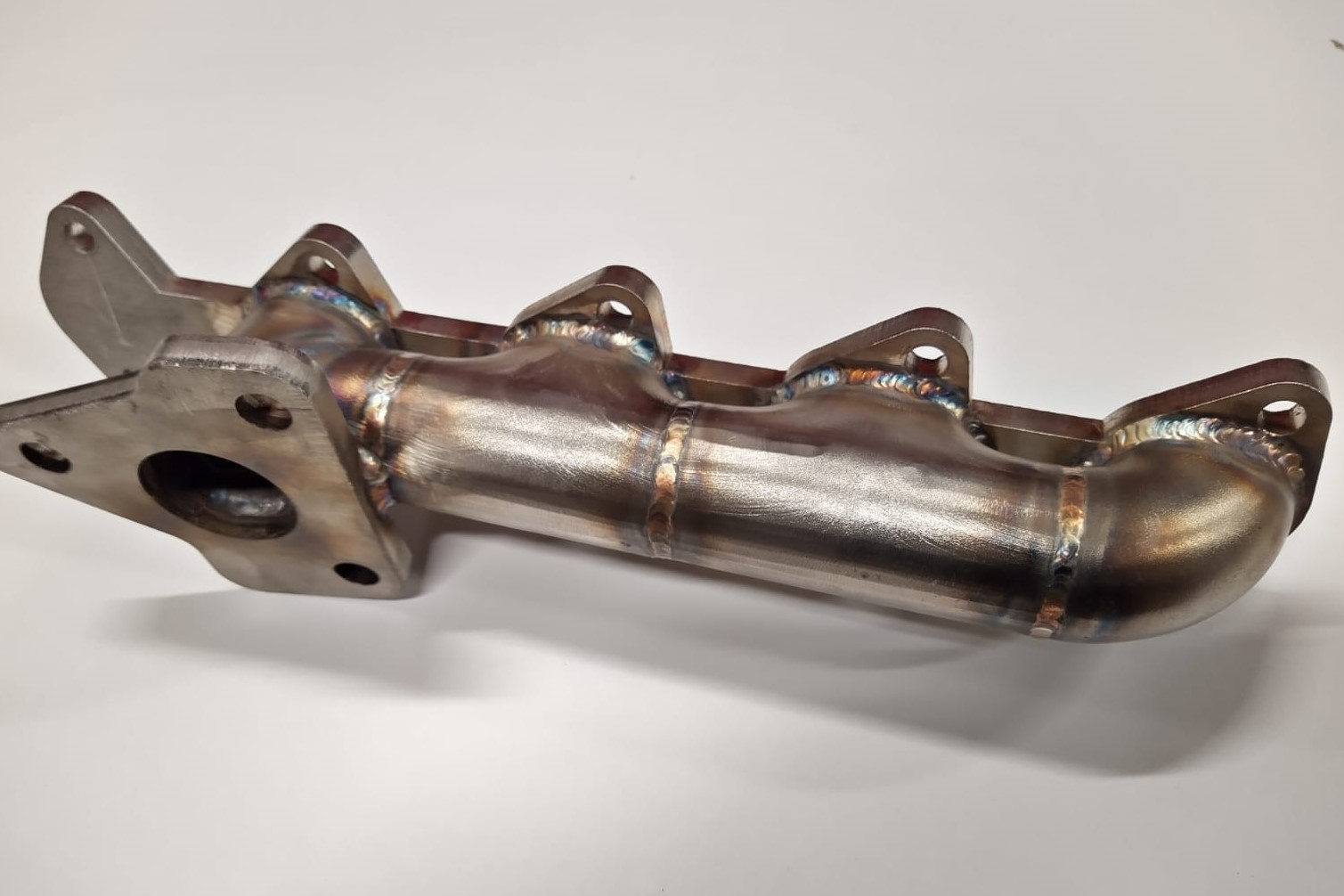 The turbo manifold kit can also include an optional exhaust down pipe, this will make it much easier to fit to the remainder of your exhaust. The down pipe will run to the gap between the sump and the gearbox ending after the 90 bend with a straight end ready to be joint to your exhaust system (it's important to have a flexi joint here to allow the engine to rock). The remainder of your exhaust system should be 61 to 63mm with a performance back box to minimise any restriction. Please note, if you do not choose the down pipe option you will also need to get this made including the flange to fit to the turbo outlet.
The manifold kit will be supplied with the oil feed pipe but without banjo bolts.
Parts which you will need to order - google or ebay search these exact part numbers:
1 - 1.6 exhaust manifold to head gasket - 0349.J7.
2 - Turbo outlet hose with seal and clip - 1505A565. This must be used in order to clip to the turbo outlet seal, it's not possible to put a standard silicone hose on to the turbo outlet as the surface is not flat. We used this pipe and cut it in half in the middle and then continued with custom silicone hoses.
3 - Turbo and exhaust gasket set - ABS545 or KT740120 this includes the metric fine thread bolts to fix the turbo (if you order a new turbo this is usually included in the box).
4 - Mitsubishi TF035HL10-09GFT-VG part number 49335-01122 or 1515A238.
5 - Oil drain - the original peugeot pipe should fit with a bit of silicone hose to the normal drain point, it may require bending of the metal pipe.
6 - Various silicone hoses for intercooler.
7 - Large front mounted intercooler.
8 - Stage 3 Ceramic Paddle clutch.
9 - NOT included with kit, shown in photos - High tensile M8 allen head bolts to fix the manifold to the block. This is required to clear the welds. To remove the original studs from the engine block you can lock two nuts together, they usually come out easily. Be careful to check the length of the new bolts, if you go in to far you could damage the head and wont be able to tighten fully.
10 - 3.1 Bar MAP sensor 9649396580
11 - M10 x 10mm Metric fine thread Banjo bolt for turbo oil inlet. Please note: the oil feed in to the turbo uses M10 metric fine thread do not attempt to fit normal or course thread.
12 - Replace the original lower M12 banjo bolt for a new part, do not remove the filter this is important to protect the turbo and also it acts as a pressure restrictor.
13 - EGR blanking plate - although this is blocked at the manifold end it doesn't hurt to blank at the other end to ensure there cannot be any leakage of boost.
14 - Remapped software to suit - Price will be £250 for our online service you will need a suitable programming tool to upload the software to the ECU.
Here's the recommended way to route the turbo outlet hose using Mitsubishi 1505A565, the silicone hose can be glued to the plastic using gasket sealant and a hose clamp to ensure it can never come off even with high boost pressure. Here we only need the end of the hose because it has the seal and clip to match the compressor outlet: